New Jersey Saxophone Quartet with the University of Delaware Percussion Ensemble - Harvey Price, conductor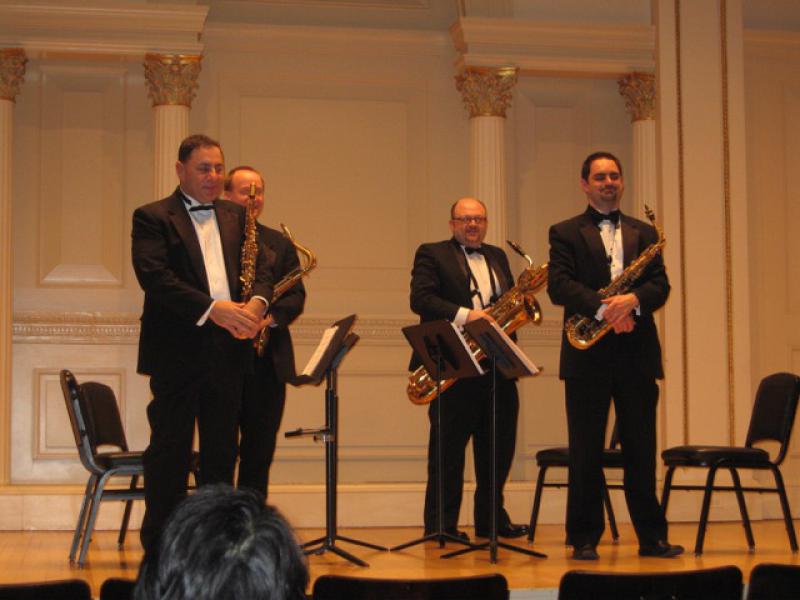 The New Jersey Saxophone Quartet
was founded in 2003 by Frank Mazzeo. The ensemble members are all working professional musicians, who incorporate music from all genres and their diverse backgrounds. The New Jersey Saxophone Quartet has performed at the University of Delaware, Bucks County College, Villanova University Chamber Music Concert Series, Temple University Concert Series, Sayersville Cultural Arts Society, New York University, Bucks County Performing Arts Center, the Pocono Arts Festival, Blue Ridge Jazz Festival, Riverfront Renaissance Art Gallery, the Noyes Museum, the 2005 North American Saxophone Alliance Biennial. The New Jersey Saxophone Quartet were main stage performers at the 2006 World Saxophone Congress in Ljubljana, Slovenia where they premiered Bob Mintzner's Saxophone Quartet No. 3 specifically written for the NJSQ. The New Jersey Saxophone Quartet made its Carnegie Hall debut in 2008 and returned in 2010 to perform an all Phil Woods program, which featured the world premiere of "Requiem" a composition dedicated to Vincent James Abato and specifically composed for the New Jersey Saxophone Quartet. The group has had works written for them by Bob Mintzer, Billy Kerr, Todd Groves, Mark Zuckerman and Phil Woods.
The University of Delaware Percussion Ensemble
is directed and conducted by Mr. Harvey Price and is part of the University of Delaware's, College of Arts and Sciences, Department of Music located in Newark, Delaware, USA.
Frank Mazzeo, soprano saxophone

Jason O'Mara, alto saxophone
Todd Groves, tenor saxophone
Greg Riley, baritone saxophone
Harvey Price, conductor
New Jersey Saxophone Quartet with the University of Delaware Percussion Ensemble - Harvey Price, conductor

recital

Phil Woods (1931-2015): Requiem


Arturo Stable (1975): Saxophone Quartet No. 1 (premiere performance)

Todd Groves (1977): Chase, Lullaby and Funk (premiere performance)

STUDENT CENTER Theatre &TD Big Hall Savska cesta 25