Preston Duncan and Ramonet Rodríguez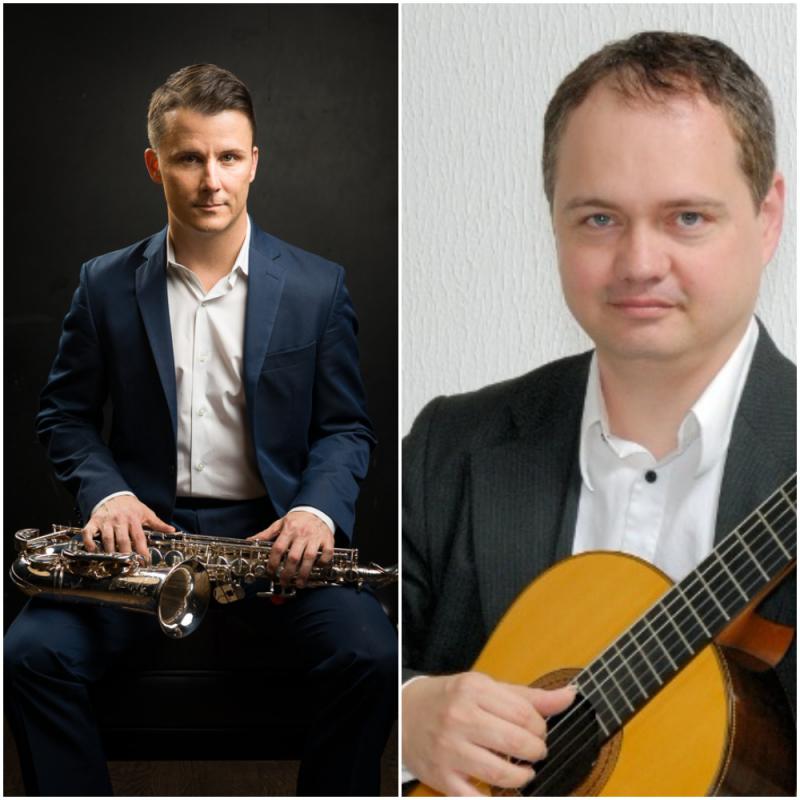 An internationally acclaimed performer and educator,
Preston Duncan
has on over 65 occasions appeared as a soloist with large ensembles at prestigious venues. Duncan was awarded a Fulbright Fellowship and has won numerous awards and prizes including 1st prize in the MTNA National Woodwind Competition. He was the featured performer and educator at the 1st Taiwanese National Saxophone Festival, the 12th Encuentro Universitario Internacional de Saxofón in Mexico City and Saxfest Costa Rica and the featured performer at the 4th International Festival of Saxophones in Montevideo, Uruguay. He currently teaches at the University of Minnesota and, during the summer, at Ticino Musica International in Lugano Switzerland and Shell Lake Arts Center.
Ramonet Rodríguez
has taken various courses in the field of classical guitar with outstanding masters. He has completed studies in the flamenco guitar field, in Madrid and Andalucía, with ethnomusicologist Ana Vega Toscano, guitarrist Oscar Herrero and concert artists Manolo Sanlúcar and Víctor Monge "Serranito". He has played as a soloist with the National Symphony Orchestra of Costa Rica, Symphony Orchestra and the String Orchestra of the University of Costa Rica, the National Philharmonic Orchestra and others. Rodríguez has three record productions and a book Estudios para Guitarra. He obtained with honors the degree of Graduate in Music and a Masters of Arts degree with honorable mention at the Universityof Costa Rica. He is currently a Professor at the School of Musical Arts at the University of Costa Rica.
Preston Duncan, saxophone
Ramonet Rodríguez, guitar
http://prestonsaxophone.com