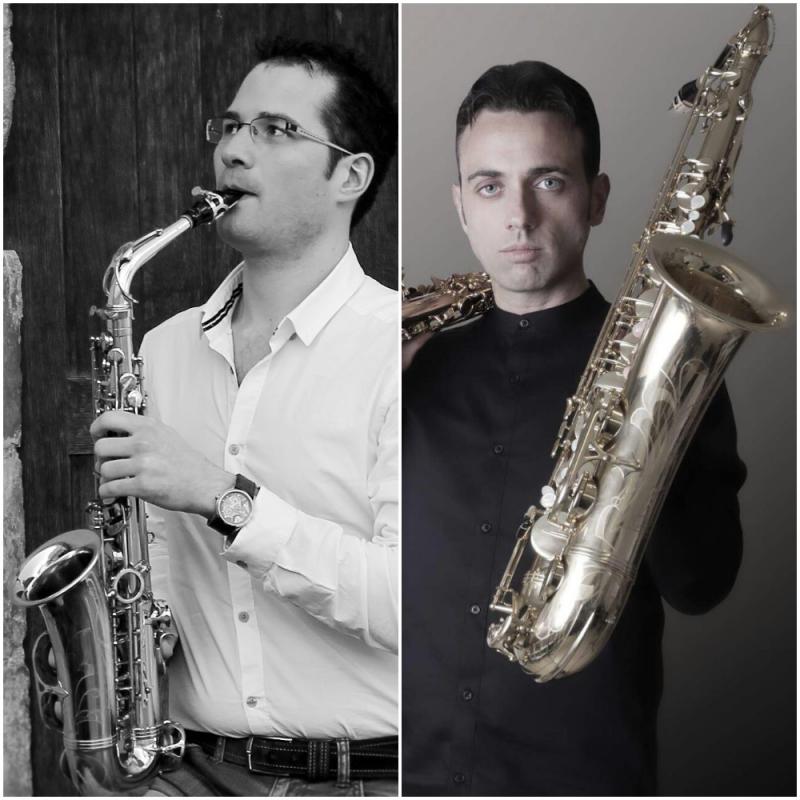 The SiKé Duo
was founded in 2016 by Italian saxophonists Basilio Merlino and Francesco Paolo Barbaria, whose aim was "research and innovation from a musical and artistic point of view". As a result, the SiKé duo has turned itself into a classical duo exploring music and saxophone from all perspectives.
Basilio Merlino
graduated at the top of his class and he achieved a Master of Saxophone Performance at the National Music Conservatory in Palermo in July 2010. Interested in the French School of Saxophone, he completed his studies with Gilles Tressos and Christophe Bois at the Centre d'Etudes Supérieur de Musique et Danse (CESMD) de Poitou-Charentes in 2013. In June 2016, he got a Diploma of Saxophone performance (DNSPM) and a Diploma of saxophone teaching (DE). He has been improving his skills studying with Fabrizio Mancuso, Sylvain Malezieux, Jean Denis Michat, Arno Bornkamp and Jean-Yves Formeau. Today, he is a saxophone teacher at the Conservatory Paris Vallée de la Marne (France).
Francesco Paolo Barbaria
graduated with top marks, from the early years of his studies he was able to display a high level of musicality. He studied with Fabrizio Mancuso and Geraud Etrillard. He has also attended masterclasses with various world-renowned saxophonists including Claude Delangle, Fabrice Moretti, Herrero Sixto, Antonino Mollica, Sergey Kolesov, Vincent David, Jean-Marie Londeix, Christian Wirth, etc. He has furthered his musical studies with emphasis on the saxophone at the "Conservatorio A. Scontrino" of Trapani, graduating with maximum points. He is collaborating with "Teatro Massimo V. Bellini" in Catania and the "Fondazione Orchestra Sinfonica Siciliana" of Palermo as soloist with orchestra. He is a saxophone teacher of a secondary school.
Basilio Merlino, saxophone

Francesco Paolo Barbaria, saxophone
SiKé Duo

recital

Stefano Gervasoni (1962): Odoi for two soprano saxophones

Giuseppe Mazzamuto (1988): Quadriphonia for two alto saxophones and electronic system

STUDENT CENTER MM Center Savska cesta 25