Salaya/NAFA Saxophone Ensemble - Wisuwat Pruksavanich, conductor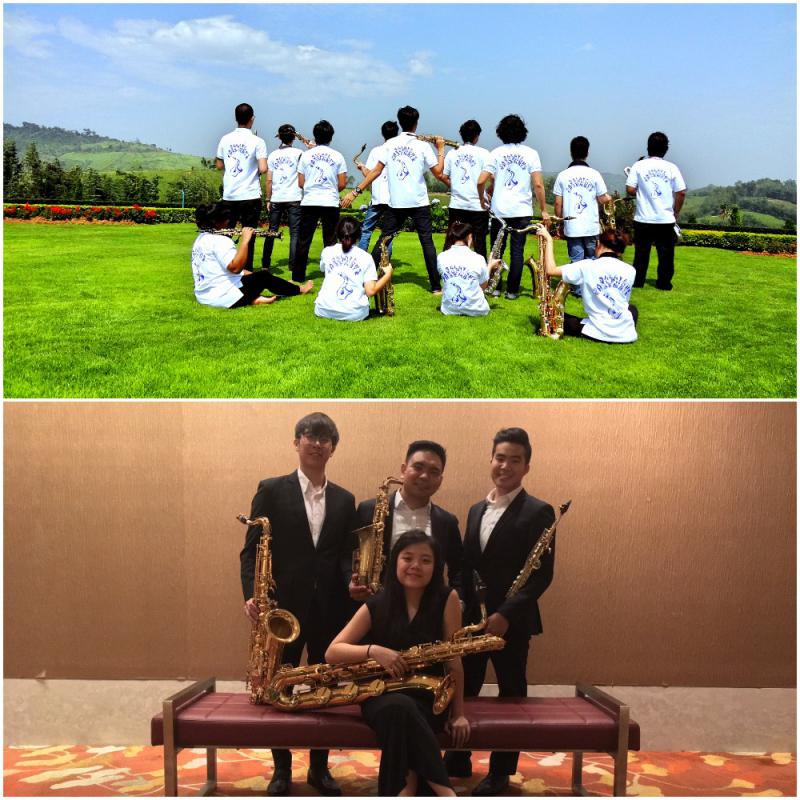 Salaya Saxophone Ensemble
is one of the most prominent saxophone groups in Southeast Asia formed by students of the College of Music, Mahidol University. They have performed works exploring both traditional concerts and stage production that included choreography. The Salaya Saxophone Ensemble regularly tours. They won prizes at the Thailand International Wind Ensemble Competition in 2013 and Thailand World Music Championships in 2013. The Salaya Saxophone Ensemble received the award for Most Comical Performance from Woodwind Extravaganza Concert in 2013 and performed in Young Thai Artist Award in 2014, organized by SCG Foundation. Recently, they have been invited by Singapore Saxophone Symposium and Asian Saxophone Congress in 2016 to be a part of the featured ensemble.
NAFA Saxophone Quartet
is in the forefront of the saxophone scene in Singapore. Comprised of student saxophonists from the Nanyang Academy of Fine Arts, the quartet performs regularly locally as well as internationally. Under the tutelage of Dr. Zechariah Goh, the quartet is often invited to perform in workshops, schools, corporate events and many others locally. They have also represented Singapore in the 17th World Saxophone Congress (2015) as well as the 1st Asian Saxophone Congress (2016), where they performed a recital of pieces written by local composers including Zechariah Goh, Lee Kah Hong Bernard, Jeremiah Li, Alexander Oon and Oh Jin Yong.
Piyaphon Assawakarnjanakit, Yong Hang Cai, Nonthapat Chaiviratnukul, Thanaphoom Chinsangthip, Yan-Tong Scarlet Gouk, Supat Hanpatanachai, Kittikun Jungate, Johann En Kai Koh, Danielle Ong Min Lee, Heng LI, Lin-Han Li, Pisol Manatchinapisit, Methawut Pimphapatang, Nitchan Pitayathorn, Wisuwat Pruksavanich, Chokwattana Puayuan, Nalin Sae-Nim, Pulaporn Sreewichian, Bantoc Breyann Lennard Taganahan, Zheng Hong Tham, Norraphat Thanavisuth, Breyann Lennard Taganahan Bantoc, Luo Tianze
https://www.facebook.com/salayasaxophoneensemble/
Salaya/NAFA Saxophone Ensemble - Wisuwat Pruksavanich, conductor

ensemble performance

Steve Reich (1936): Vermont Counterpoint (arr. Jeff Heisler)
Zechariah Goh (1970): Confluence


CROATIAN NATIONAL THEATRE Trg Republike Hrvatske 15