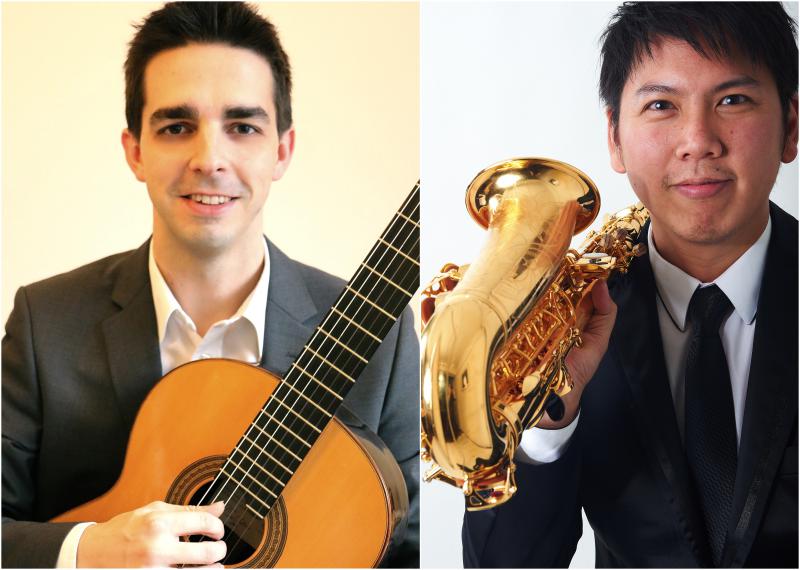 The Wist Duo
formed in 2015 as a result of a concert tour across several countries, including Austria, France and Taiwan. Their debut album "Formosa Fantasy" was released in 2015. Dr.
William Chien
was born 1977 in Taipei (Taiwan). He has performed throughout the United States, Asia and Europe. Including the performances in 16th World Saxophone Congress in Scotland (2012), Navy International Saxophone Symposium (2011), North American Saxophone Alliance Biennial Conference (2010, 2014) and Taiwan National Recital Hall (2013). Dr. Chien holds PhD in music performance from the University of North Texas. Dr. Chien is also the author of "Saxophone Learning for Novices" and is assistant professor in Taipei Fu-Jen University (Taiwan).
Stefan Skrilecz
was born 1978 in Graz (Austria). He started playing the guitar at the age of six. He received first prizes at the national competition Musik der Jugend in the categories solo and chamber music. During and after his studies at the University of Music Graz with prof. Dr. Leo Witoszynskyj, he performed at various concerts with solo guitar, chamber music and orchestra. In 2004. he was art director for a series of concerts at the summer festival "Classics in the City". Skrilecz is teaching at the Conservatory of Graz, where he is also the head of the Department of Plucked Instruments.
Kate I-Hsin Kang
received her bachelor's and master's degrees in piano performance from New England Conservatory, under Gabriel Chodos and Victor Rosenbaum. She has taught at Hwa Kang Arts School and Kuang Jen High School. Kate Kang has collaborated in performance, recitals and competitions in University of North Texas, University of Texas at Arlington and the Texas State Solo-Ensemble Contest. In 2016, she performed with world acclaimed saxophonists Kenneth Tse and Stephen Page in first Asian Saxophone Congress at Chiayi (Taiwan).
Wist Duo (William Chien, saxophone, Stefan Skrilecz, guitar)&Kate I-Hsin Kang, piano
http://www.williamchien.com
Wist Duo

recital

John Plant (1945): Faustus Suite - Faustus and Mephisto, Marguerite and the Viper in the forest, The man from over the seas (premiere performance)


Gerd Noack (1969): Rhapsodie (premiere performance)

STUDENT CENTER Theatre &TD Semicircular Hall Savska cesta 25