William Street and Allison Balcetis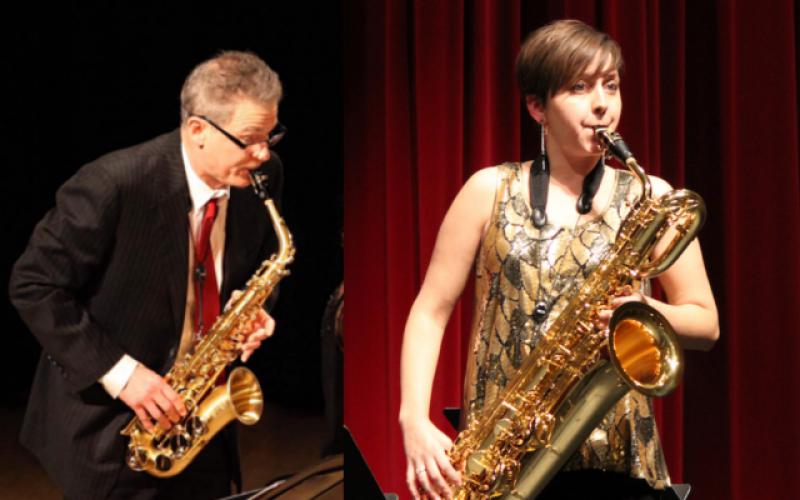 Dr.
William Street
is the Chair of the Department of Music at the University of Alberta. He has performed throughout Europe, Asia, and North America, and has lead such efforts as the Jean-Marie Londeix International Saxophone Competition in Thailand and the North American Saxophone Alliance. He performs regularly as a soloist, with his quartet the Quatuor International de Saxophones, and with pianist Roger Admiral. His published work includes the English translation of Hello! Mr. Sax, ou les Paramètres du Saxophone (Leduc) by Jean-Marie Londeix, Elise Boyer Hall, and The Life of Elise Boyer Hall in Les États Géneraux Mondiaux du Saxophone. As an avid contemporary saxophonist, Dr.
Allison Balcetis
has given the world premieres of over 70 new works solo saxophone or chamber ensemble. Her chamber groups include being a former member of Anubis Quartet, the Edmonton Saxophone Quartet, damn magpies (a free improvisation sextet), and UltraViolet (quartet of piano, cello, flute, and saxophone). A champion of others' art, she serves as President of New Music Edmonton and is the co-curator of the interdisciplinary SubArctic Improv concert series. She is a full-time faculty member at the University of Alberta, teaching saxophone, chamber music, aural skills, and woodwind techniques.
William Street, saxophone
Allison Balcetis, saxophone

http://www.allisonbalcetis.com
William Street and Allison Balcetis

recital

François Rossé (1945): ...sur un îlot de la rivière...

Robert Lemay (1960): Fragments Noirs

ACADEMY OF MUSIC Svetislav Stančić Hall Trg Republike Hrvatske 12