Carinthia Saxophone Quartet & Gabriel Lipuš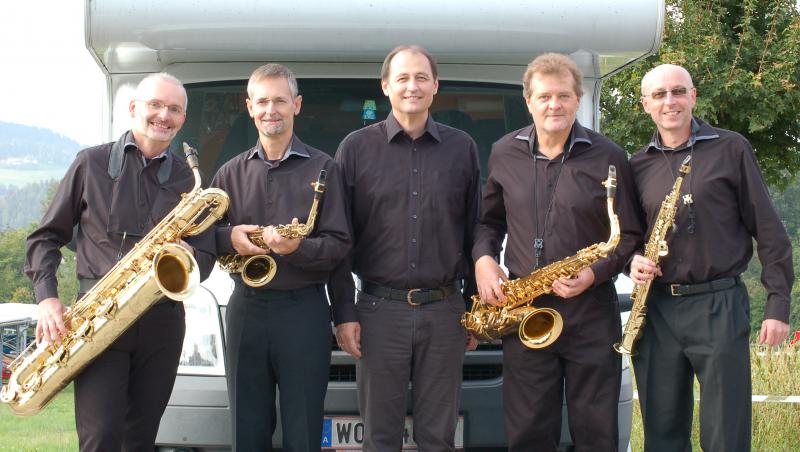 The Carinthia Saxophone Quartet has been vitalising Carinthian cultural life since 1988 with appearances at the Carinthian Summer Music Festival, Millstatt Music Weeks, St. Paul's Cultural Summer Music Festival, and the Wörthersee Classics Festival. The quartet has also been touring abroad (1997 American tour to Las Vegas, New York, Washington and Chicago; 2005 Canberra International Chamber Music Festival; Collaboration with the Italian based "Teatro Potlach" in Italy, Austria, Great Britain and Denmark). Special emphasis in the work of the quartet is put on safeguarding the original French literature for saxophone quartet, premieres and performances of contemporary compositions - mainly by Austrian composers - as well as surprising audiences with sophisticated arrangements of music from different periods and styles.
Guest singer Gabriel Lipuš teaches singing at the Kärntner Landeskonservatorium in Klagenfurt. Beside teaching he is a very prolific singer and composer.
Gilbert Sabitzer, soprano saxophone
Gerhard Lippauer, alto saxophone
Rudolf Kaimbacher, tenor saxophone
Günter Lenart, baritone saxophone
& Gabriel Lipuš, tenor

http://www.saxophonquartett.at
Carinthia Saxophone Quartet & Gabriel Lipuš

recital

Franz Schubert (1797-1828): Symphony No. 5 in B flat major D 485 - I. Allegro - part of the movement (arr. Günther Lenart)


Franz Schubert (1797-1828): An die Musik D 547 (arr. Günther Lenart)

Franz Schubert (1797-1828): Moment Musical No. 3 D 780 (arr. Günther Lenart)

Franz Schubert (1797-1828): Die Winterreise D 911 - XII. Einsamkeit, XIII. Die Post (arr. Günther Lenart)


Franz Schubert (1797-1828): Divertissement á la hongroise D 818 (arr. Günther Lenart)

Franz Schubert (1797-1828): Die Winterreise D 911 - V. Der Lindenbaum, XXIV. Der Leiermann (arr. Günther Lenart)


ACADEMY OF MUSIC Svetislav Stančić Hall Trg Republike Hrvatske 12